What a month! Okay, not really so much in 'real life' but in the blogging life, yes. The beginning of the month saw me heading down to my home town for a long weekend, for my best friend's birthday, but other than that it's been pretty quiet around here, other than work and church. But on the blog? Goodness me. This month has been chock-a-block (means really full), and some days there were ever two posts! I had a mini series, which finished yesterday, on awesome fabrics that I have found recently, some movie reviews, some book reviews, the sad death of Robin Williams was also documented in the form of my fave RW movies. Bonnie turned 20 weeks and I stopped the weekly updates for her. Next week we'll be picking that up again, as she turns 6 months.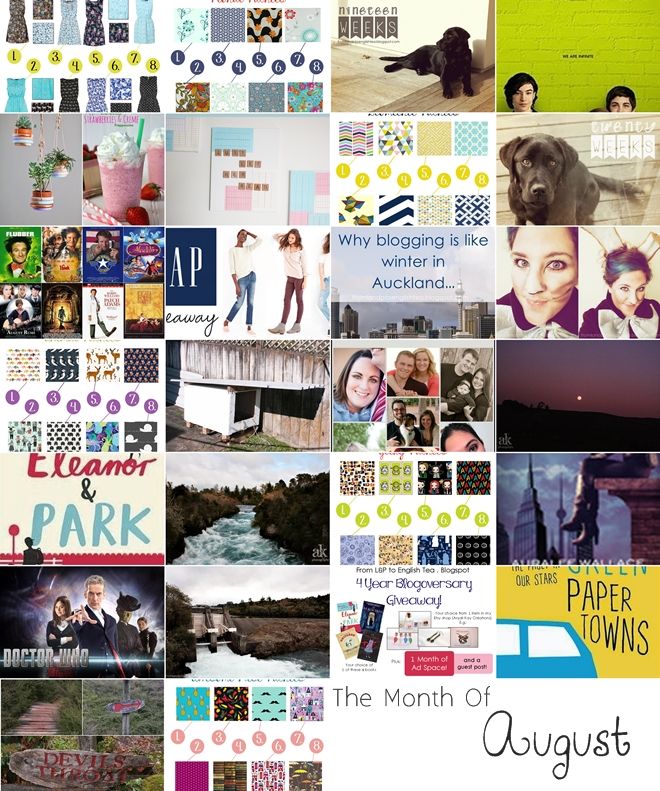 Seriously, though. Look at all those posts! There were three giveaways this month (three!). One of them was my blog's birthday, which was last Friday. If you haven't entered that cool gievaway,
you can do so here.
Doctor Who Season 8 also started this month (ohmygosh), and we had four Ghost Posts:
A trip to the snow
,
rain adventures
,
my trip to America and Canada
and
the black and white tea party
.
Inter mingled with all these posts were the usual Sunday Songs, and also the blog had a makeover this month! Quick reminder that all the above images are clickable; have a look back through the month, especially you newbies (welcome!) and see what we got up to on From L&P to English Tea in August.
September looks fairly tame. We're going to see
Cirque Du Soleil: Totem
on the 27th which I am
so freaken excited about!
It's been on my bucket list for ages now! We also have a mini trip planned (just a few days) to another city in NZ, and I hope to catch up with some friends that I haven't seen in a while too. Books will be read, shows and movies will be watched, things will be made, posts will be written! Bring on September!
How was your August? Can you believe the 8th month of the year is already over?!